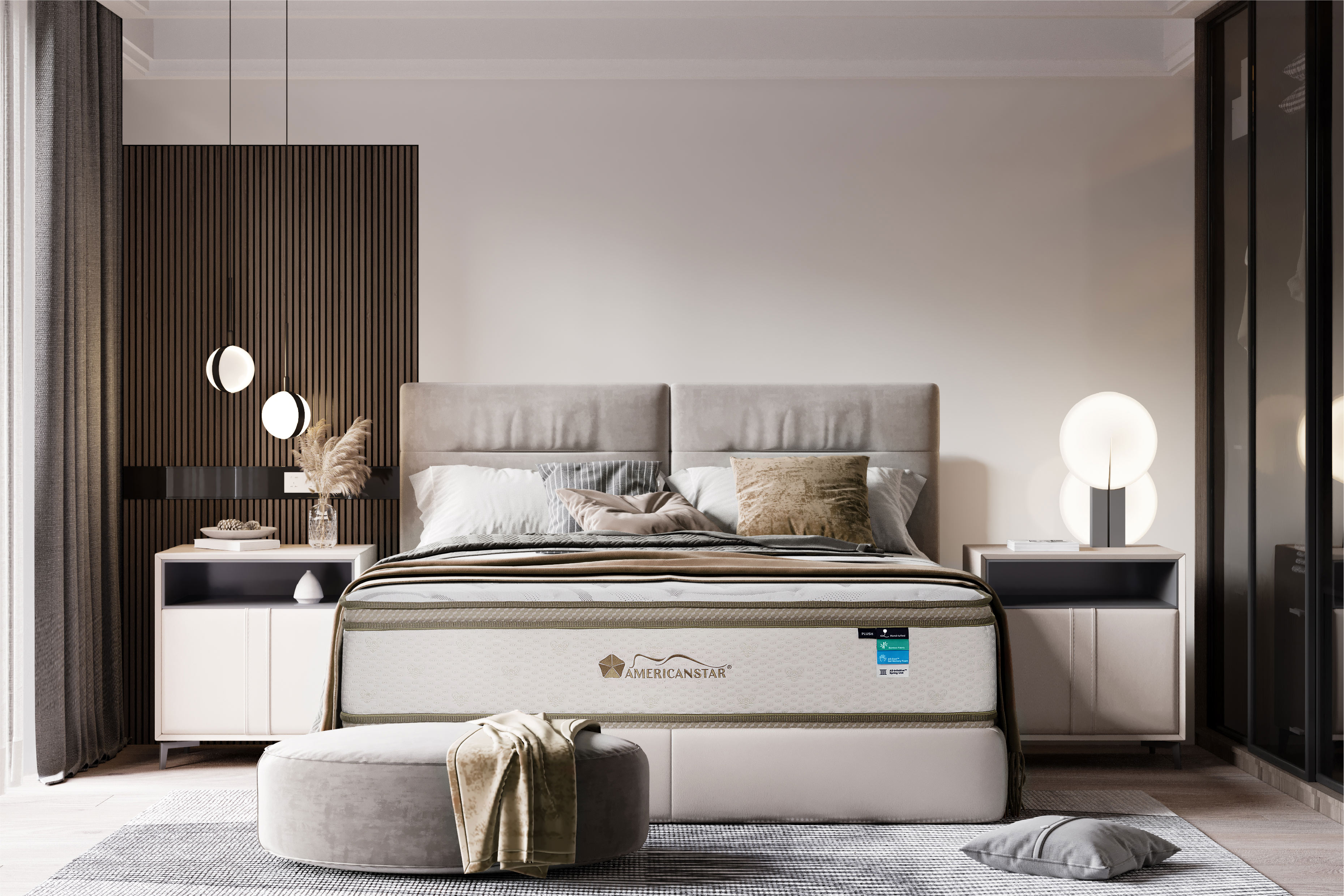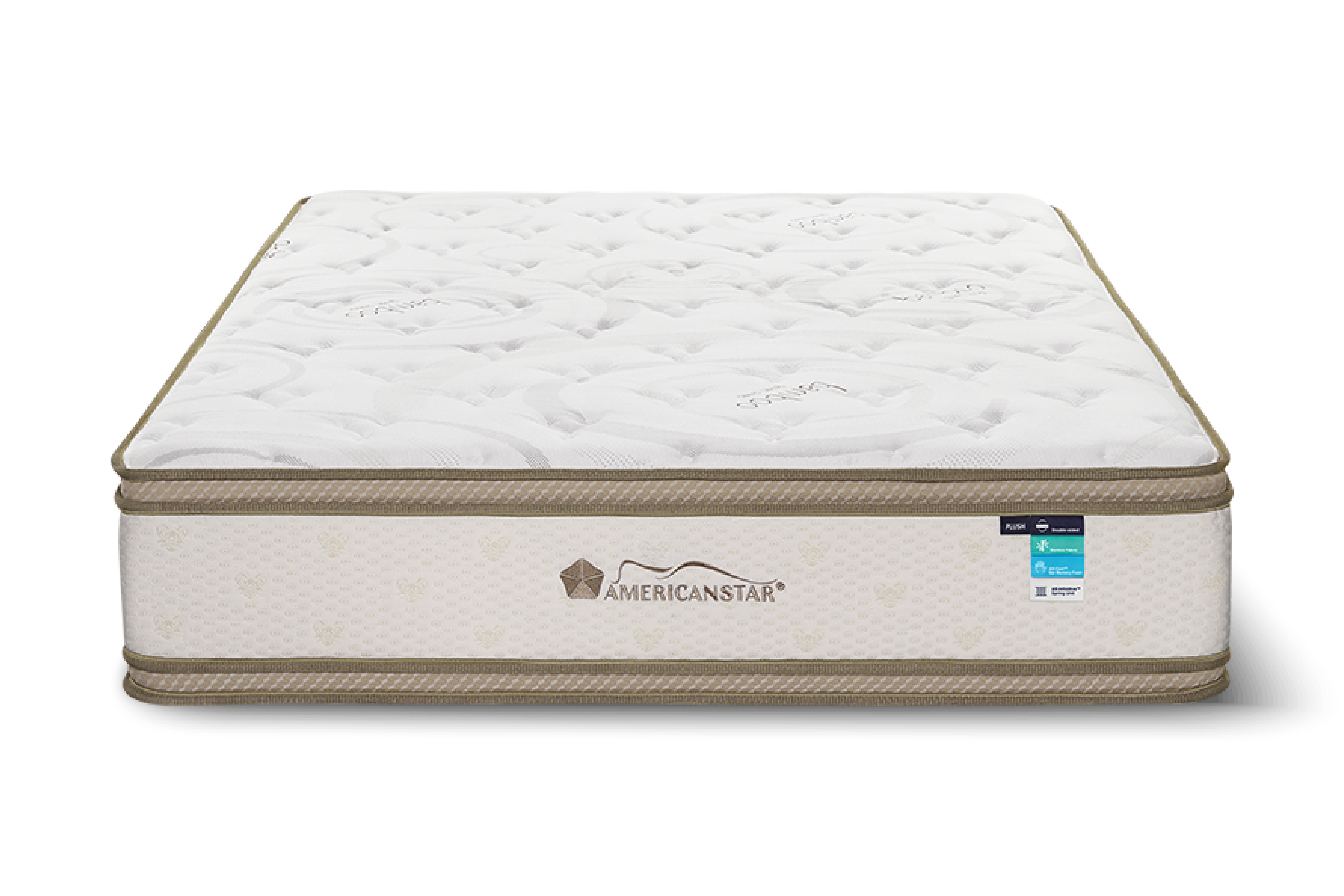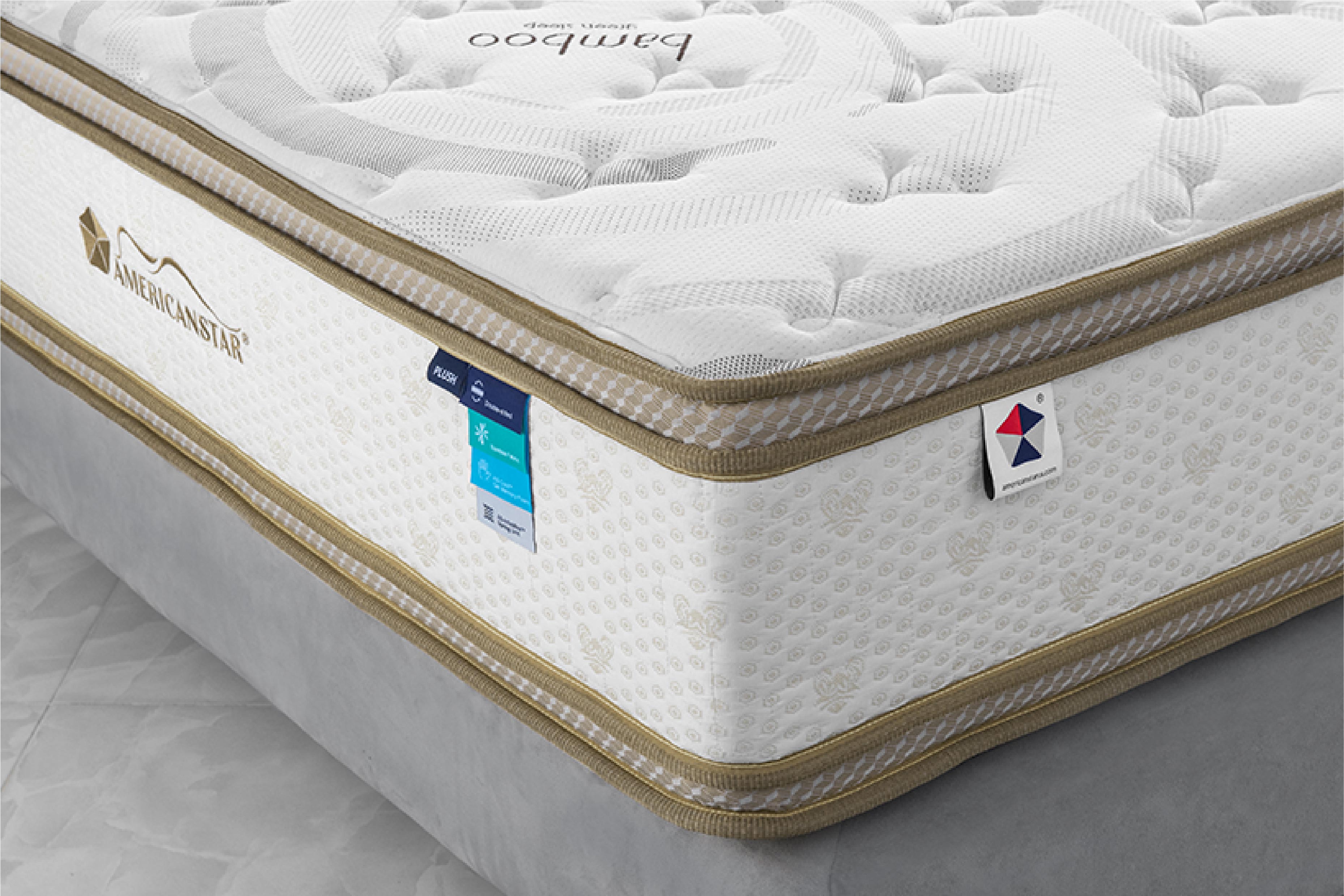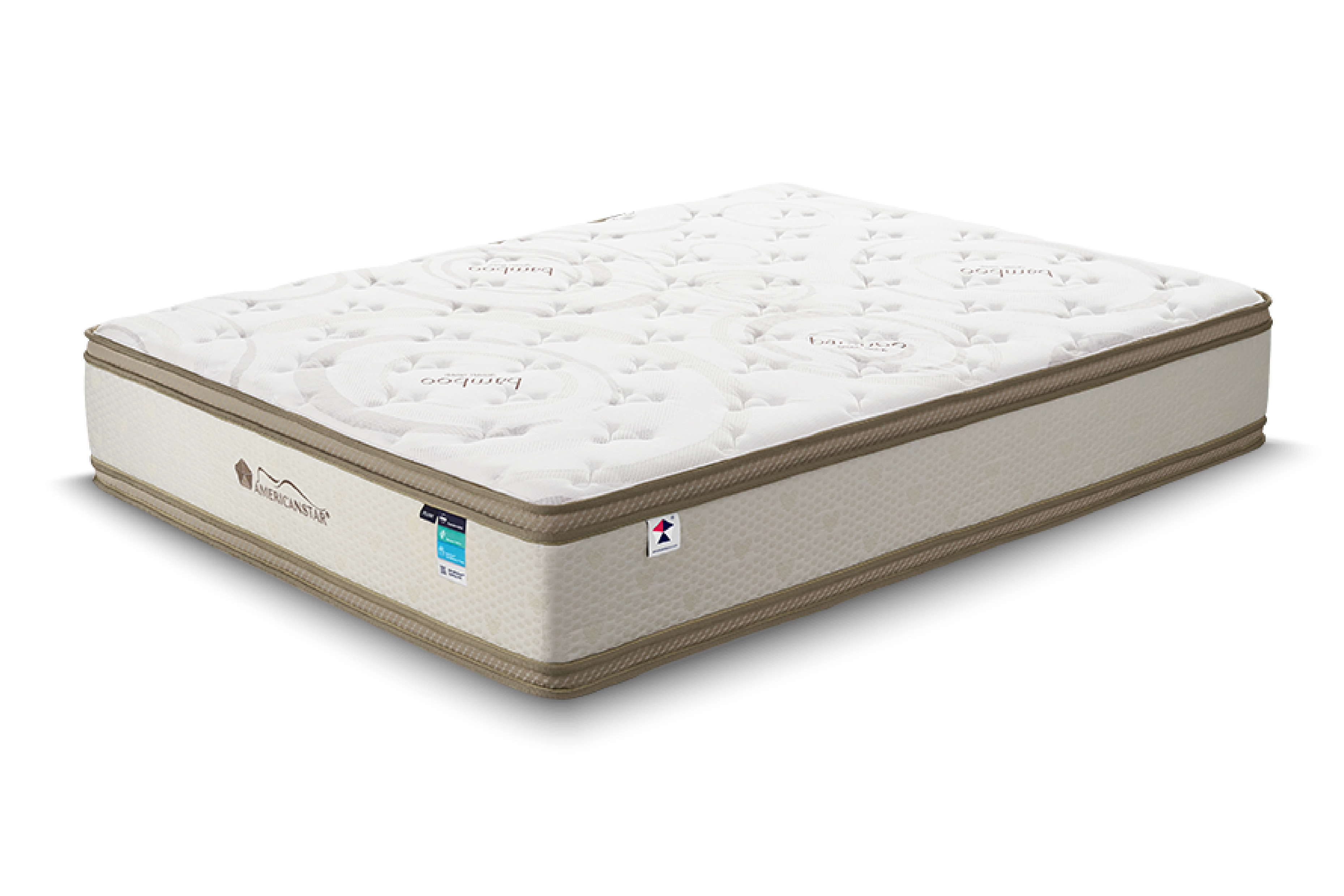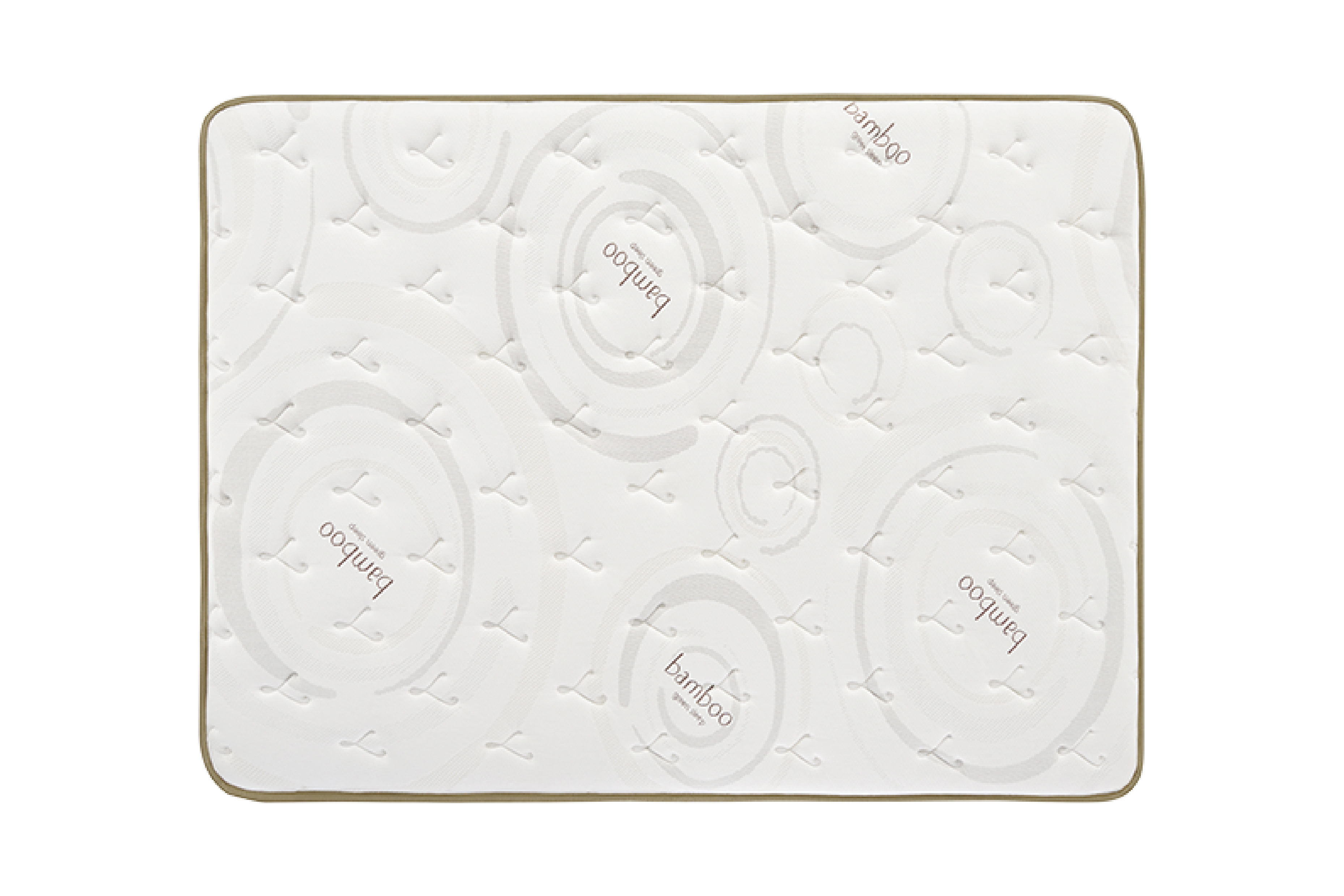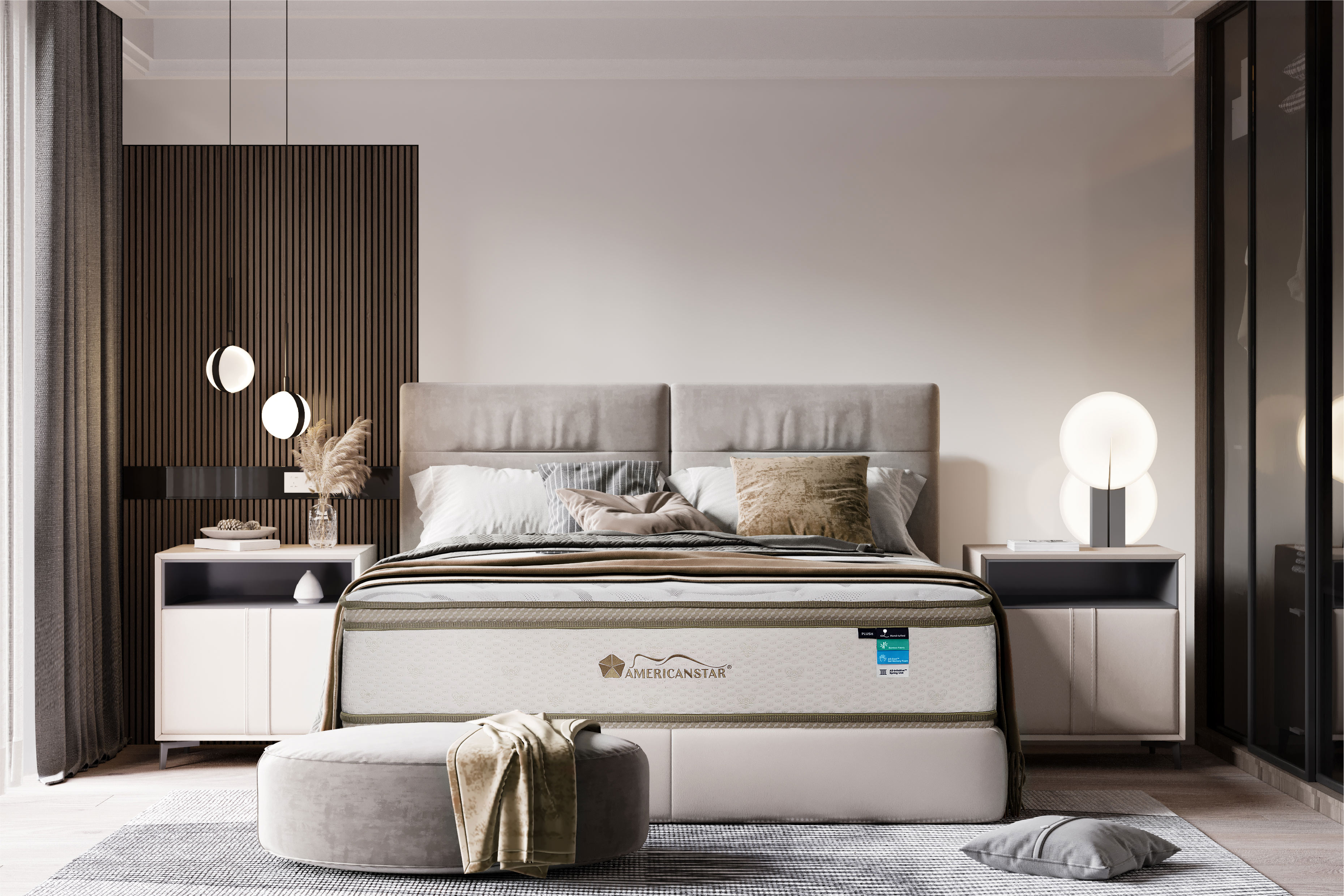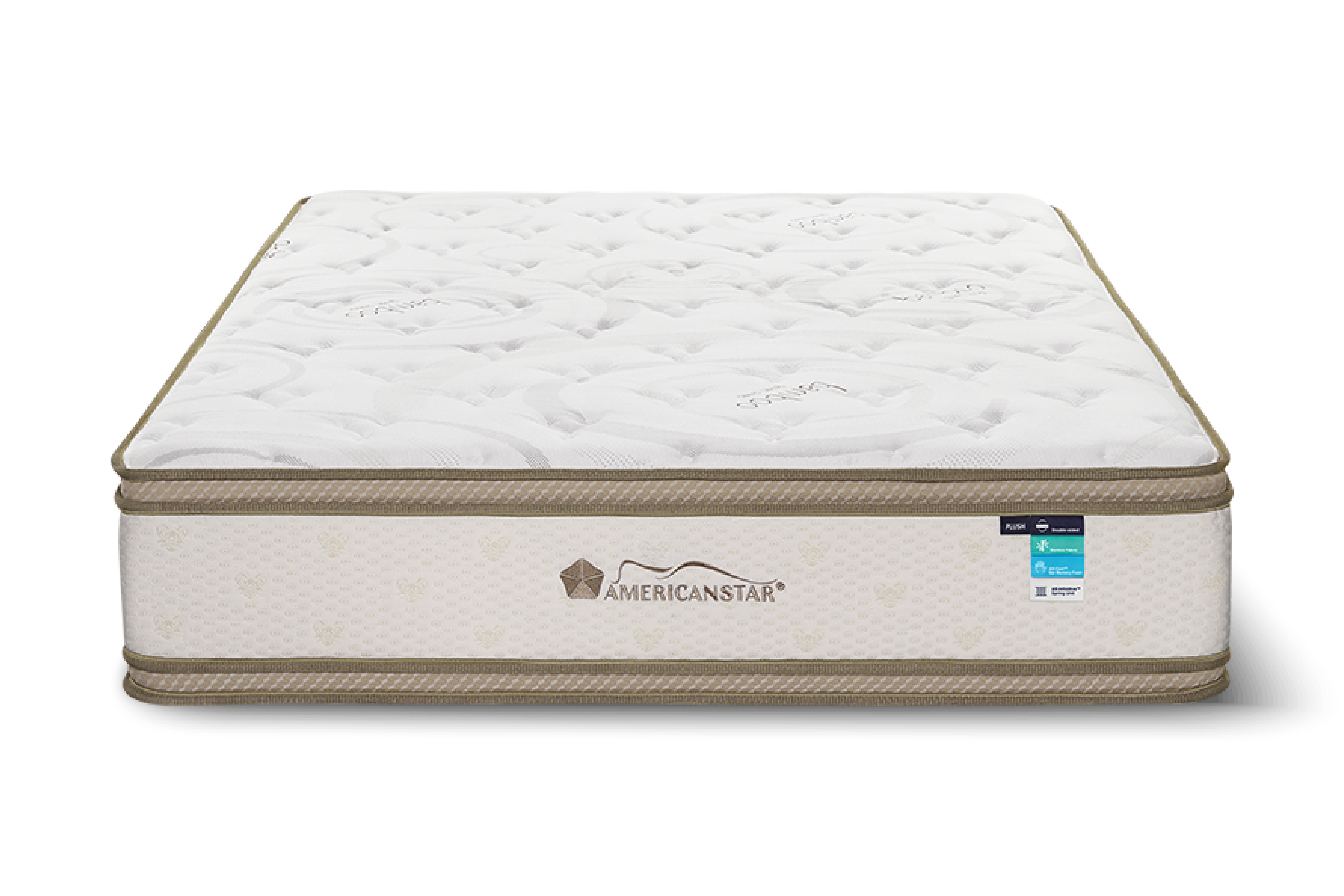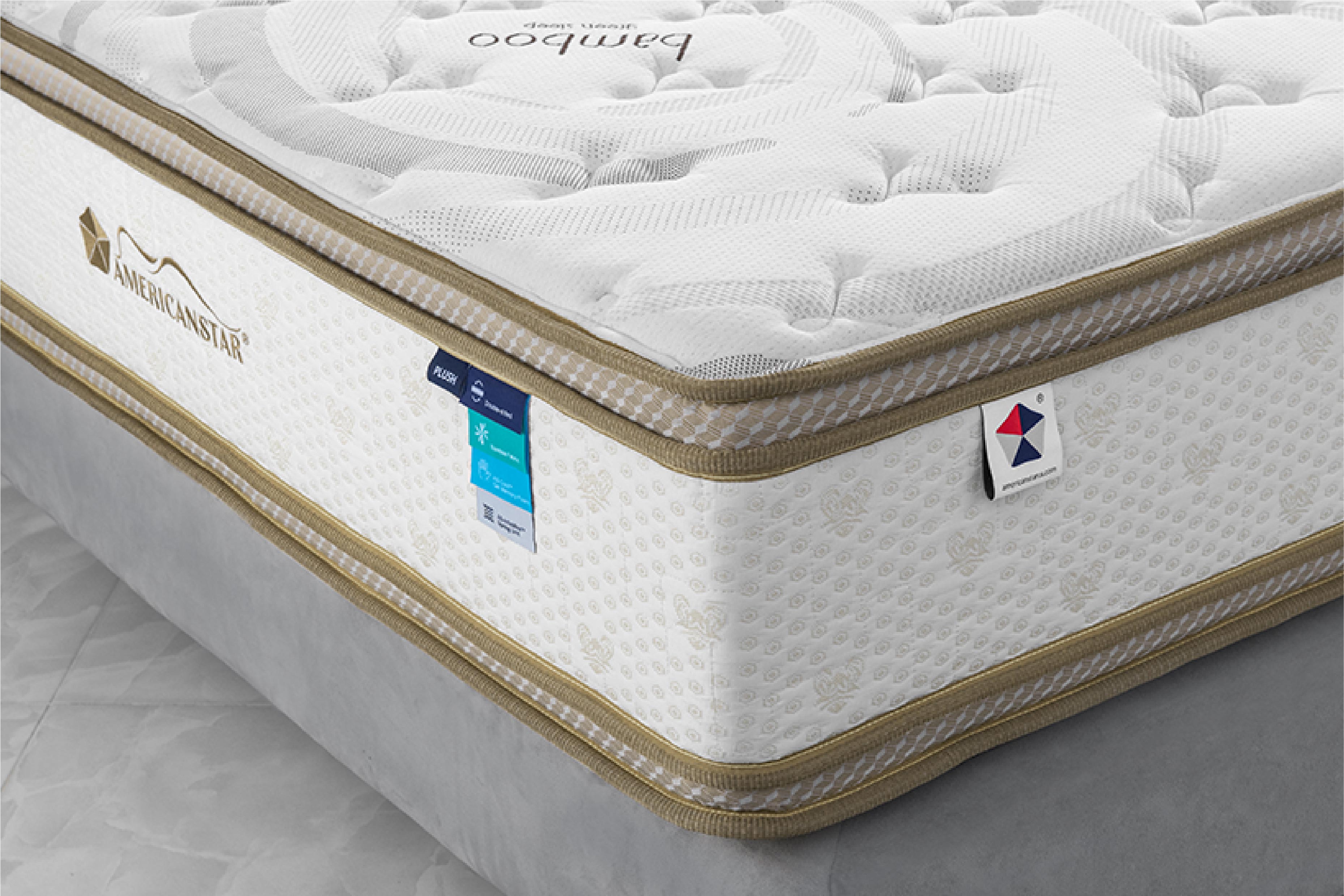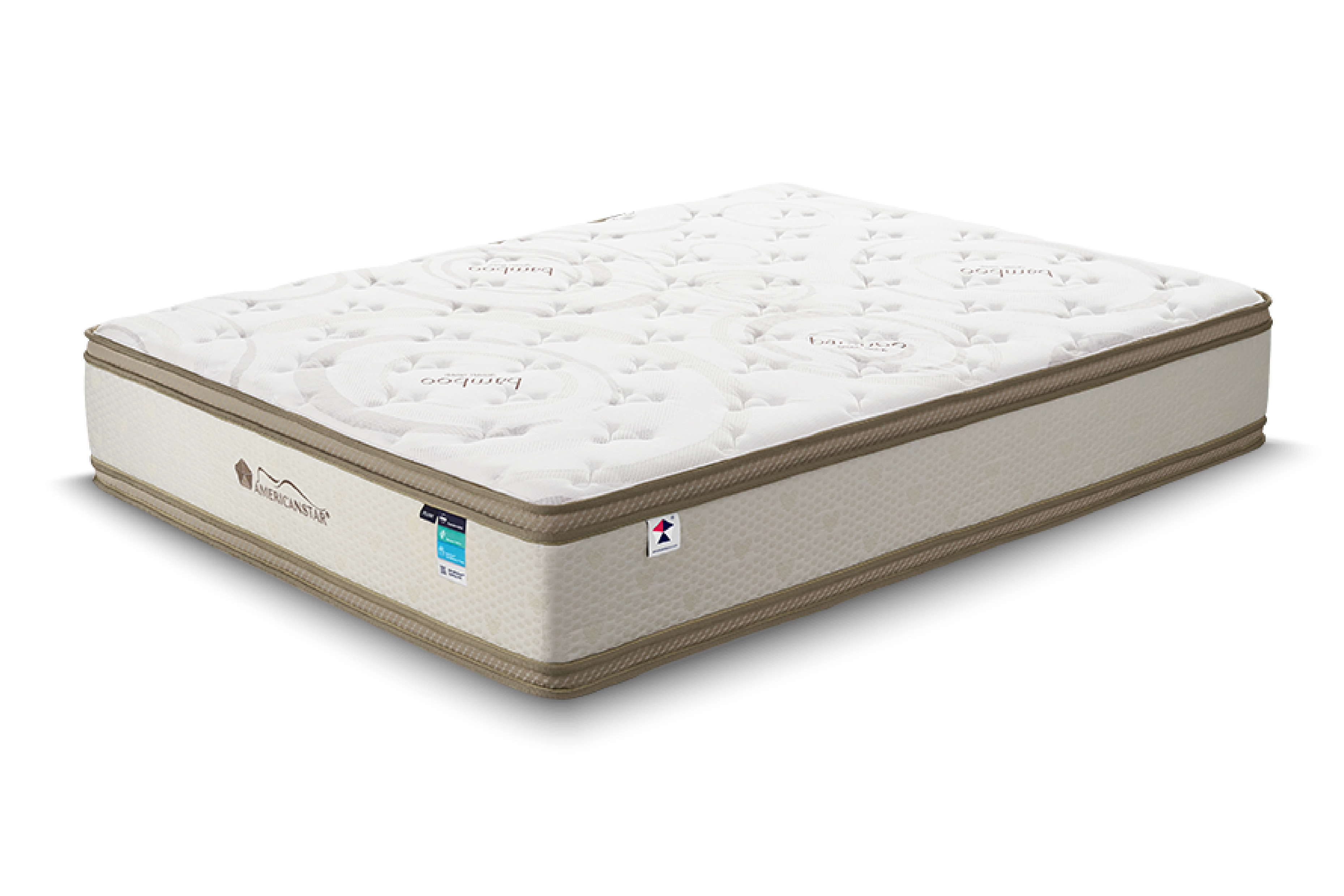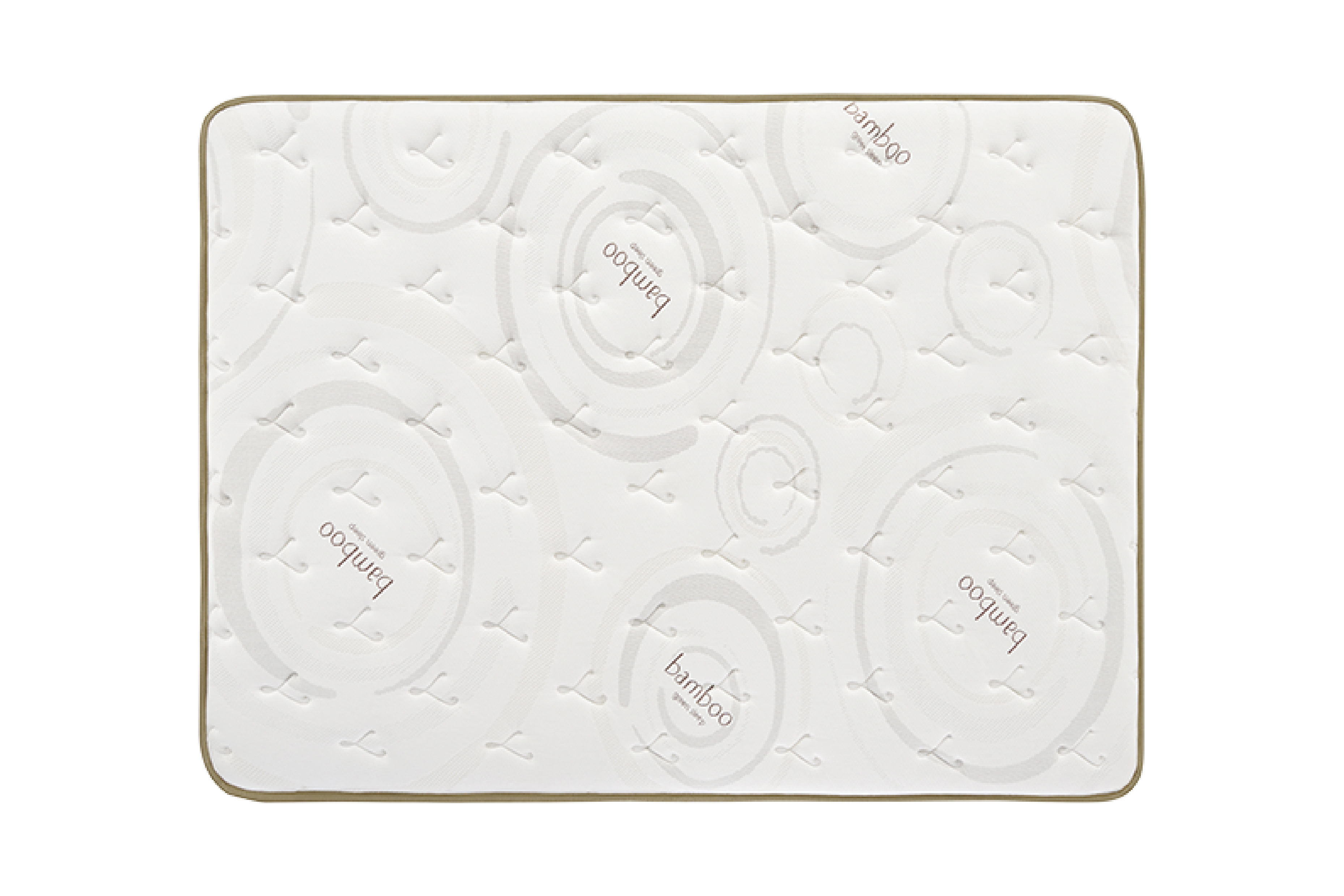 Dylan Lux 14" Euro Top Mattress
Made from one of the most eco-friendly fabrics available, this extraordinarily soft and luxurious fabric is naturally antibacterial, naturally hypoallergenic, and highly sweat absorbent.
This temperature-sensitive memory foam responds to your body for optimal pressure-relieving comfort while helping to reduce the heat build-up typically associated with memory foam for cooler, more restful sleep.
Only Americanstar produces this extremely durable and supportive 8" innerspring made with continuous coils that run head-to-toe to mirror the natural shape of the body and provide optimal support.
Our highly-responsive convoluted foam helps evenly distribute body weight to reduce the uncomfortable pressure points that can build up during sleep and cause disruptive tossing and turning.
The Dylan Lux is the only mattress in the Americanstar lineup to feature 2-sided construction, allowing you to flip the mattress to help even out body impressions and normal wear over time.
At Americanstar, we work tirelessly to ensure that we are always offering our customers the latest in affordable luxury with the finest materials and expert craftsmanship so you can enjoy your new mattress for years to come. And you can feel confident when you choose Americanstar with our limited warranty that protects your new mattress against manufacturing defects for up to 15 years*.
Our warranty protects against manufacturing defects only and as such does not cover items such as personal comfort preference, sheet fit, fabric pilling, mattress height differences of up to 1.5" and Act-of-God reasons such as fires, natural disasters, etc. You must retain the mattress law tag for warranty service. Our warranty only covers residential use and does not cover commercial use. Please see our warranty brochure for complete details.
Improper care such as not using the recommended support, exposing the mattress to stains, or misuse of the mattress can void the warranty. Please see our warranty brochure for complete details.
If you observe a potential manufacturing defect, please contact the retailer from where you purchased your Americanstar mattress to start a warranty claim. Your mattress must be within the warranty period as defined on the mattress law tag. You must be the original and registered buyer of the mattress to file a claim.

Shop now
Click here to buy this model through our online store.
It's like sinking into a cloud while still getting the body support you need.
&nbsp
Mattress Type
Queen Mattress MSRP
Support System
Specialty Foam
Comfort Level
Fabric
DYLAN LUX 14"
Eco-Friendly Innerspring
$1,399
Infinity8™ Continuous Coil Innerspring
2x Amstar-Cool™ Gel Memory Foam
Plush
Eco-Friendly Bamboo Fabric
DYLAN ULTRA 12.5"
Eco-Friendly Innerspring
$1,199
Infinity8™ Continuous Coil Innerspring
Amstar-Cool™ Gel Memory Foam
Medium
Eco-Friendly Bamboo Fabric
DYLAN FIRM 11"
Eco-Friendly Innerspring
$1,099
Infinity8™ Continuous Coil Innerspring
Amstar-Cool™ Gel Memory Foam
Firm
Eco-Friendly Bamboo Fabric