10 Comfort Movies to Induce Sweet Dreams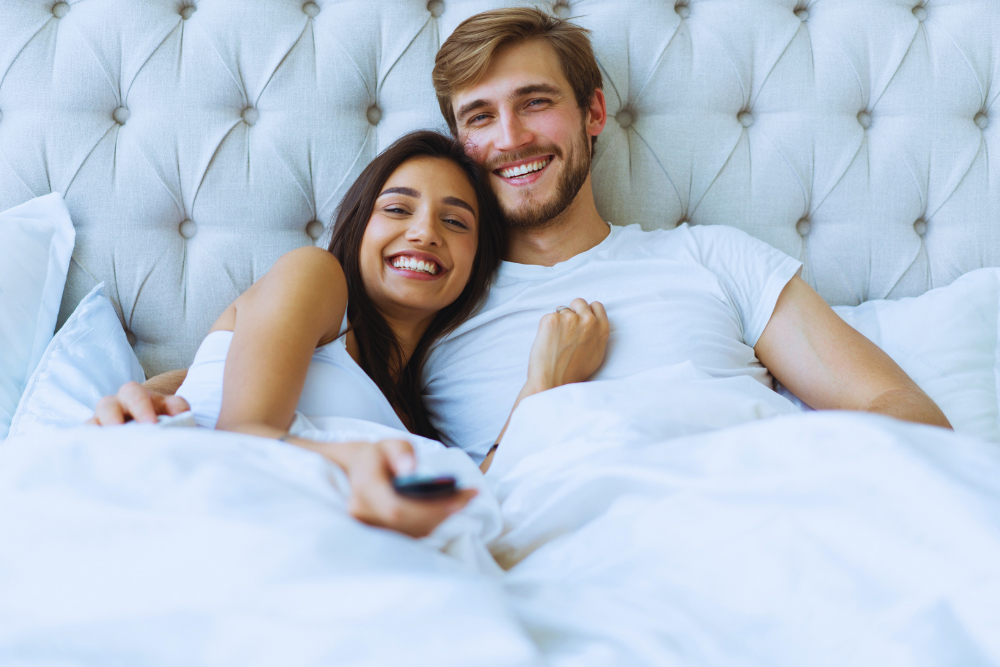 While some may prefer to crack open a book to relax and unwind at the end of the day, others may opt to be lulled to sleep by the familiar sounds of their favorite movie. Whether it's a romantic comedy, drama, or science fiction film, any genre can fall on the list of comfort movies. We've pulled ten from years past that have proven to be timeless classics with something to make it the perfect movie to help you drift off to dreamland. All you have to do is slip into your favorite pajamas, dive into your coziest blankets, and hit 'play.'
Sleepless in Seattle
Contrary to the title, nothing about this movie leaves us sleepless. Tom Hanks and Meg Ryan make for romantic comedy gold in this story about finding love through an evening talk radio show. Like any good movie, there are a few hoops to jump through to get to the top of the Empire State Building, but *spoiler alert* you can take comfort in knowing everything works out in the end.

Music & Lyrics
Hugh Grant and Drew Barrymore team up in this fun and light-hearted movie about an 80's pop star turned songwriter and county fair performer. Start the movie off with singing along to throwback-inspired songs like 'Pop Goes My Heart!' and drifting off as their characters Alex Fletcher (Grant) and Sophie Fisher (Barrymore) craft a hit love ballad 'A Way Back Into Love.' A music-filled story that is perfect for lulling you to sleep.

The Princess Bride
This film is essentially a bedtime story in cinematic form. It opens up with a grandfather reading The Princess Bride to his reluctant grandson. The fairytale follows Princess Buttercup and her true love while they go through various mythical trials and tribulations to be reunited.
Mrs. Doubtfire
If you're having trouble unwinding after a long day, 'help is on the way, dear!' Robin Williams takes on the persona of Euphegenia Doubtfire, a British nanny, to spend more time with his children during his divorce. Watch Williams transform in this family-oriented movie that will leave you chuckling and quoting for years to come.
Runaway Bride
Julia Roberts is a fan favorite and doesn't disappoint in Runaway Bride. Her character leaves multiple men at the altar and quickly racks up a reputation that makes its way to a big city journalist (Richard Gere). Looking to save his career, he tracks down Maggie (Roberts) for a piece to cover her fourth wedding (will she go through with it?). A 90's favorite that will have you running to dreamland.
Mary Poppins
The 1964 film is no doubt a classic that has been viewed countless times and has even been remade! Mary Poppins is simply magical and fantastical and isn't that what the best dreams are made of? This is one to pop on and settle into soothing nostalgia.
You've Got Mail
No surprise here that a Tom Hanks and Meg Ryan movie made the list twice. Go back to a time when email only existed on the computer and let your eyelids go heavy as these two unknowing bookstore rivals fall for each other through keystrokes and text.
The Wedding Singer
Another fun 80's inspired movie that revolves around finding love. Robbie Hart, played by Adam Sandler, is, you guessed it, a wedding singer. All he wants in life is to get married and have a family. When he's left at the altar, he forms a friendship and falls for a waitress named Julia (Drew Barrymore) who is already engaged. Filled with a mix of upbeat 80's covers and ballads, you'll love having it in the background as you unwind.
A Walk to Remember
Based on Nicholas Sparks' novel, A Walk to Remember is an unlikely love story between two high schoolers. In their short time together, they form a strong bond and learn life lessons that would take others a lifetime to do. Keep a few tissues nearby for this one!
Julie & Julia
If you've ever comfortably dozed off while watching the food channel, Julie & Julia may be the watch for you. Follow present-day Julie while she works through the entirety of Julia Child's cookbook, 'Mastering the Art of French Cooking.' Through this journey, you'll pop back in time to see how Julia got her start in French cuisine and how her passion was ignited.
So, how many of these do you have on DVD or VHS? Luckily, in the world of streaming, you aren't further than a few clicks away from watching. Did your favorite movie to fall asleep to make the list?
Happy Sleeping!
-Americanstar US