Our Favorite Holiday Bedtime Stories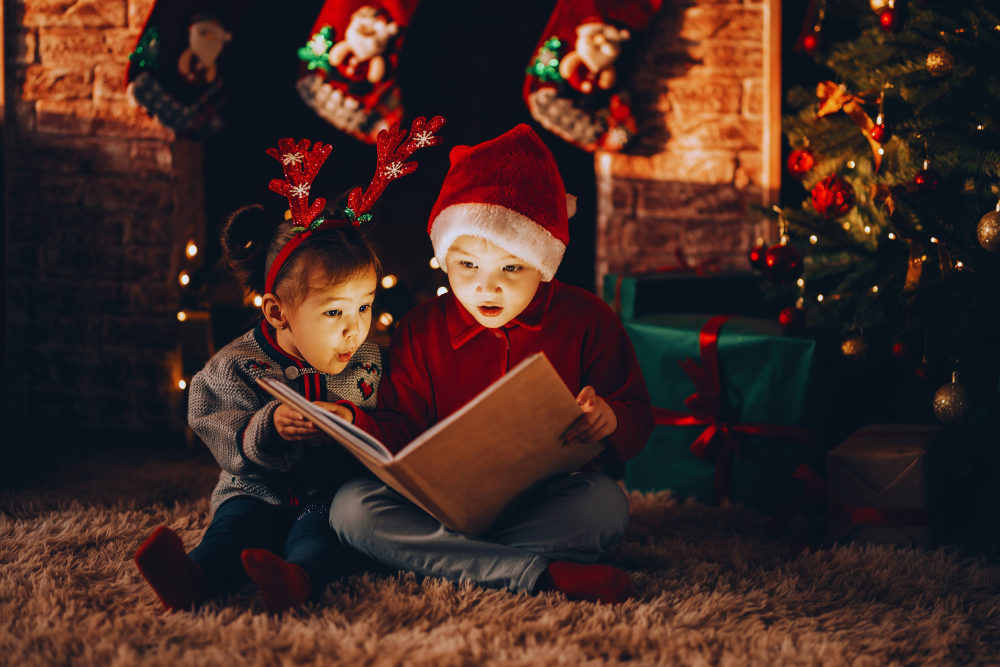 If there is one thing we love just as much as a comfortable mattress, it's a good bedtime story. There is something about winding down with a book after a long day, but something even more special about a story that incorporates the magic of the holidays.
In the spirit of the winter season, we've compiled 10 of our favorite bedtime stories. Put on your coziest pajamas and snuggle up with a festive read that is sure to delight those of all ages!
The Polar Express by Chris Van Allsburg
We couldn't pass up the classic by Chris Van Allsburg. A boy lies awake on Christmas Eve night hoping to hear the bells of Santa's sleigh. To his surprise, he hears something very different and is invited to board The Polar Express. Read to find out what the rest of the boy's journey entails.
The Giving Snowman by Julia Zheng
When a group of animals and humans are in need, a helpful snowman lends a hand. However, after warmer temperatures strikes, their snowman friend melts. Remembering his kindness and gratitude, they work together to rebuild Snowman.
Winter Sleep by Sean Taylor and Alex Morss
Not only an entertaining read, Winter Sleep introduces the concept of hibernation (which we love!). This story teaches the habits of creatures by following a child and his grandmother through a winter forest.
The Snowy Day by Ezra Jack
This children's book has been beloved for nearly 60 years. The Snowy Day follows Peter as he explores his neighborhood after the first snowfall. What type of adventures will Peter embark on?
Everybody's Tree by Barbara Joosse
A sweet story of a spruce tree growing over the course of 80 years alongside the person who chose it as a sapling. As it nears the end of its life, the tree is selected to be the centerpiece of the city's holiday celebration.
Pig the Elf by Aaron Blabey
Pig the Pug is now Pig the Elf. The story follows a greedy little puppy that stays up all night to get his presents. However, Pig will be along for a ride he did not expect.
The Mitten by Jan Brett
A book from our '90s bookshelf. The Mitten is winter staple and tells the tale of a boy who loses his white mitten in the snow. Animals of the woods come across the missing mitten and crawl inside. What will happen when creatures as small as mice and as a big as a bear sneak inside?
It's a Wonderful Life by Paul Ruditis
There is no doubt that It's a Wonderful Life is synonymous with the holidays. It's only fitting that the storybook retelling made our list. Enter Bedford Falls and follow George on a journey of dreams, love, and important life lessons.
Elf by Kim Smith
Another holiday favorite that has been adapted into storybook format. There is no denying that Buddy the Elf is among the most cheerful elves (or humans!) around. Follow Buddy's journey to New York City to help get his father off the naughty list and ultimately save Christmas.
Tough Cookie by Edward Hemingway
From the land of Holiday Treats, a cookie is being chased by Fox. This ultimately leads them both to learn that the cookie is not delicious! Follow along as the cookie determines a new identity and finds a place in the world.
Did your favorite make the list or did you discover a new story to add to your rotation? We hope you enjoy these as much as we do!
Happy Sleeping!
-Americanstar US