What Exactly Is a Hybrid Mattress?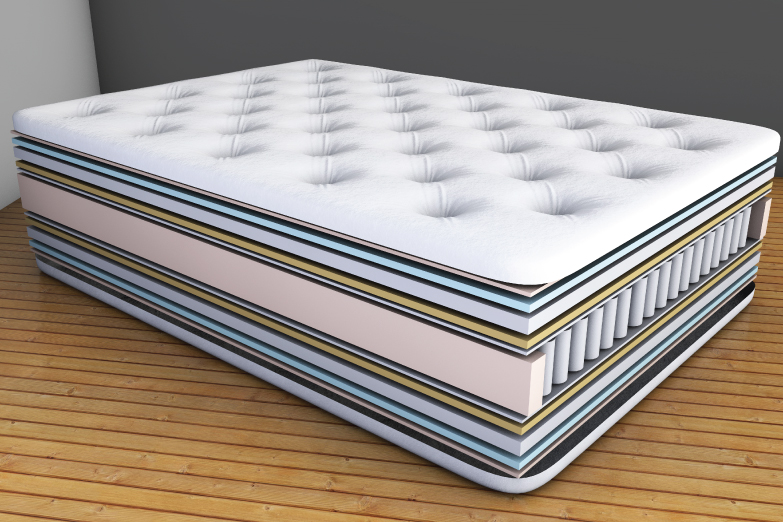 If you've shopped for a new mattress recently, chances are that you've come across the term "hybrid mattress" – although you most likely didn't really know what it meant. Like hybrid cars that combine an electronic motor with a gasoline engine, hybrid mattresses also combine two distinct features into a new design meant to offer additional benefits. In this article, we'll break it all down and answer the question "what exactly is a hybrid mattress?" and compare this to other mattress types.
A Brief History of Mattresses
To best understand what a hybrid mattress is, let's first take a quick trip back in time to understand its origins.
At the beginning of the 20th century, most mattresses were made of a steel coil innerspring unit for support and cotton batting or fiberfill for comfort. The industry would make many advancements over the next decades, with a focus on improving the comfort layers to promote pressure relief. Then, in the 1990's the first memory foam mattress hit the market, capitalizing on the foam's ability to absorb movement while conforming to the body to ease pressure.
For many years thereafter, there were two types of mattresses: Innerspring, made with a steel coin spring unit and other comfort materials, and Memory Foam, made with a high-density foam support core and memory foam for comfort.
Then Came the Hybrid Mattress
While many people loved the unique feeling of a memory foam mattress, others didn't like the way that it felt like it was "sinking in" without the trusted support of a traditional innerspring. This gave way to what we now call the "hybrid mattress", which combines what people liked most from a traditional innerspring mattress – the steel coil support system – and what they liked most from a memory foam mattress – the unique comfort of memory foam. To put it simply, it's the best of both worlds!
Hybrid vs. Innerspring Mattresses
This can get confusing because hybrid mattresses are technically made with an innerspring. Most mattresses labeled as "hybrid" today are made with an individually wrapped coil innerspring, a system comprised of hundreds of individually wrapped coils that work together to provide optimal body support while each coil responds individually to weight.
While there are a wide variety of comfort materials used in mattresses today, hybrid mattresses most often feature gel-infused memory foam and other specialty foams with a similar feel and temperature regulating capabilities.
Hybrid vs. Memory Foam Mattresses
While hybrid mattresses most often feature an individually wrapped coil innerspring for support, memory foam mattresses are truly "all foam" and feature a high density foam core for support. This is what gives memory foam their distinct feel when compared to other types of mattresses.
Which Type of Mattress is Best for You?
When it comes to mattresses, there is no "one size fits all" solution for everyone. That's because we all have unique preferences when it comes to comfort as well as different issues when it comes to sleep. If you are shopping for a new mattress, it's important to try out the different types and comfort levels so you can see what the best match is for you. For those who prefer to shop online, look for detailed product descriptions to ensure you understand what's inside each model and how it may feel.
Looking for a new hybrid mattress? Our Primerest collection <link to collection page> offers our most advanced cooling technologies in mattresses that combine premium specialty foams with an advanced individually wrapped coil support system. Available in your choice of comfort – firm, plush, and pillow top.
Happy Sleeping!